Click on the graphic for 2008 Planet Ultra report and results
Finally after 4 attempts (albeit weak ones), this one is finally in the bag. Butterfield changed this year and actually reversed course that included an all new route. The organizers warned everyone before hand that this route is rather urban, so if you don't like stoplights and local traffic, pass and do another ride. Altogether, the route was very tolerable and absolutely beautiful in most spots. I gotta tell ya, when the weather in Cali is nice, the riding is superb, hands down. A pretty large contingent of Nevada riders showed, and we even had 3 tackle the beast on single-speeds: Mike and Steph and Frank. True heroes and a heroine of pain to be sure. Especially that 8-10 percenter right after lunch, ugh! All honor to their names! The rest of us slackers used our geared bikes to guide us up and through the tough climbs. Urban is not necessary bad, especially early in the morning and on a Saturday. We did, however, have our share of red-light runners (shame on you) and urinating on state-park property thugs, however. All of which were singled out and chastised profusely by the Planet Ultra higher-headquarters ride organizers. As a result, they are gonna put marshals out there next year to catch all you hooligans who think that red lights are only for cars. So, keep the Johnson where it belongs and use the provided facilities next time, OK? Forewarned is forearmed!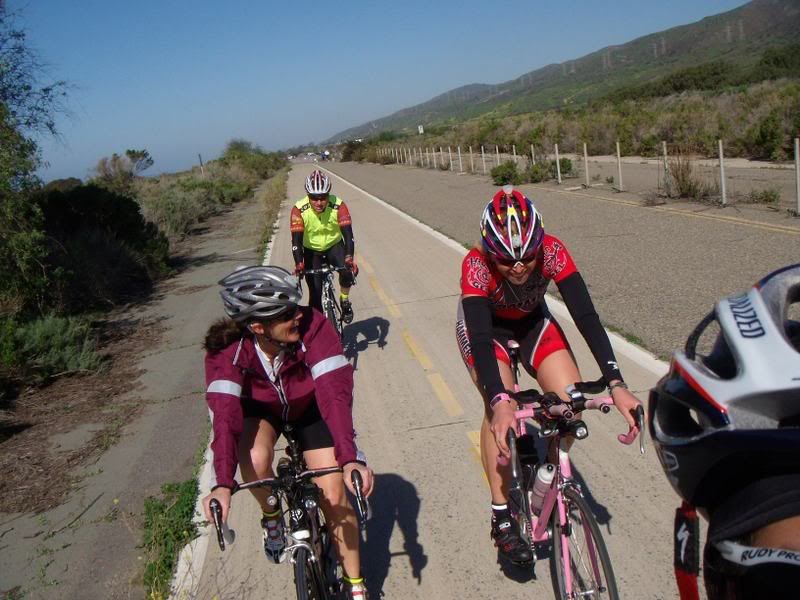 Mozam, Steph and Lisa cruise the PCH
Butterfield (which will be renamed to something else later) gives you a bit of everything really. Cruising along the beach; a bit of urban sprawl complete with some of the biggest estate homes you will ever see; to a gorgeous countryside spattered with horse farms, avocado orchards, and a few killer climbs thrown in just for fun. The support was pretty damn good too. If you are looking for a stop every 25 miles on these doubles, pass because you will be sorely disappointed. But, the SAG stops available were always stocked with plenty of food and drink, not to mention some pretty cool folks who managed to keep a smile on their face for some pretty long hours. My hat is off to these people. The most they get is a t-shirt and a surly comment from some idiot who can't seem to appreciate what it takes to support one of these events. So, I always make a point of being very thankful and outwardly appreciative for all they do so I can enjoy myself.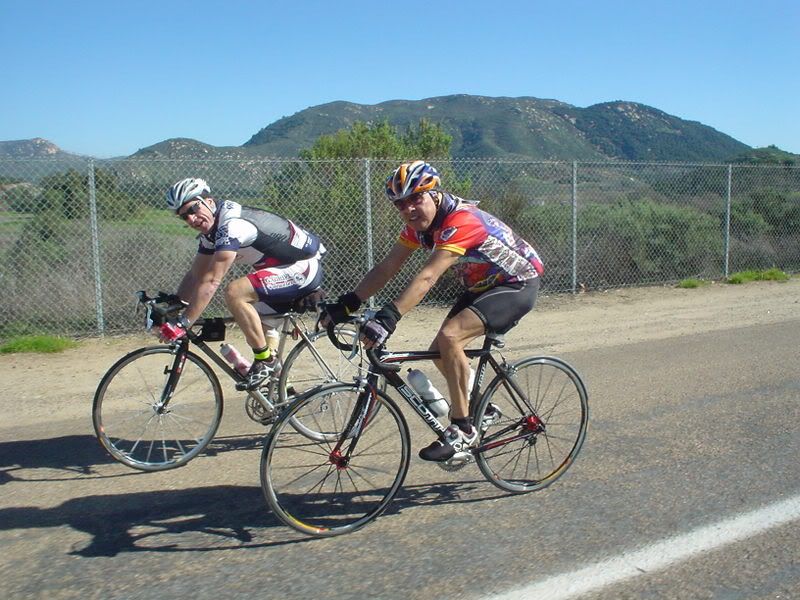 Mark and Al cruisin' out of the Mountains
I relearned quite a few lessons on this ride. I basically violated every rule I had ever set for myself when riding a Double Century by not staying true to my riding plan. First off, we waited around at every rest stop for way too long. That's basically a show-stopper in and amongst itself. You get tired, stiff, and suffer from mental fatigue. So, it is better to spend as little time off the bike as possible. We also stopped at points along the way much too often. It is better to slow down and let someone catch up than stop rolling altogether. We also lolly-gagged at lunch way too much and that compounded our timing problem even further. The bottom-line: keep moving and learn to refuel and hydrate on the bike as much as possible. Finally, I highly recommend sticking with your plan once you establish the plan in your mind. Compromising your plan for others will only lead to frustration on your part over the long haul. Once I realized that I had completely compromised my plan, the impact of my actions did not hit me until I tagged up with a group of really cool folks with about 7 miles to go to the finish. The guy next to me in the peleton said, "well, at least we will make the time limit!" Holy shit, I thought as I looked at my watch. I had ridden 187 miles and I was in a potential situation of being disqualified because I couldn't complete the ride in 17 hours. I felt like a complete idiot because I had completely lost track of where I was and what time I was supposed to be there! So, keep the stress level to a minimum by following your own pacing schedule, the ride goes a lot smoother and you are a lot happier with results of your efforts.
Ending on the upside: It was a gorgeous day with perfect riding conditions. I met some really cool new folks towards the end of the ride, and I just had a blast bombing down Santiago Canyon in the pitch-black darkness. I know, sick isn't it? And…I got to ride through some beautiful California scenery that can only be appreciated when you see it from a bicycle. I'll be back next year, you can count on that!
See a slide show ride
here
Read about the Butterfield Double Century
here