I've always toyed with mountain biking but never took it seriously. And...after purchasing two mountain bikes, watching them hang on my wall for over two years, I finally gave them to my son and his friend. Well as fate would have it, I recently discovered a website, while I was reading about one of the
San Diego Randonneurs
, that appeared to be a little between cross-biking (never got that bug either) and mountain biking. It is appropriately named "
Rough Riders.
" Chris Kostman, the same guy who started
AdventureCorps
and who is also synonymous with the
Furnace Creek 508
, started this fledgling group. I instantly became curious and started reading the myriad of information, as well as enjoying all the photos he, and several others, have taken of their Rough Riding experiences. The thought of taking a "road bike" off road always appealed to me but I really wasn't quite sure if I wanted to risk all that expensive componetry, not mention expensive wheels, on a whim. So, I did the next best thing! I bought another frame! Go figure. Well, this one was quite a deal from
Nashbar
($139) so I couldn't resist, so to speak. I had some extra components lying around gathering dust and I also had a pair of wheels I scammed from a guy at work for $50 bucks. So, I said, "self, why not become a Rough Rider." Well the rest they say is history. And now, here I am now waiting for all the goodies to show up so I can at least become a "poser" until I get everything together for a good 'ole Rough Rider day.
Remember, we enjoy getting "out there" by riding roads, dirt roads, trails, and paths on whatever bike we happen to be on or have handy. Sometimes the pavement's long gone and we're still on our "road bikes" or some bike that would be commonly considered inadequate for the job - and that's just fine by us! Rough Riding is not defined by the type of bicycle or type of riding surface. Rough Riding is a state of mind, a riding style with limitless freedom and an all-pervasive sense of adventure. -- Chris Kostman, Rough Riders
The whole framework for the
Rough Riders
is centered around the slogan, "Any bike, any where" and falls directly in-line with Chris' philosophy of adventure, in any form. For some odd reason this just appealed to me. Not because I'm bored, but because I really have a sense of adventure, even though I'm a little cautious about how much adventure I really do take on these days. Sloggin' through mud at 3am in the rain is not my sense of adventure, but cruisin' the back woods on poorly maintained, or dirt roads sounds great! At least as long as there is a shower, warm bed and beer at the end!
Like I said earlier, the frame is
Nashbar's cross-frame
, made primarily from cast aluminum tubing. A 56cm is to my liking and I added Nashbar's carbon cross-bike fork for the front end. Aluminum may be kinda rough on the bumps, but I wasn't looking for comfort on this type of experience and besides, you can't beat the prices! I had a 48x38x28 triple crank lying around that I'll use and I'll strip the Kestrel of the Dura Ace triple shifters to complete the brains of the drive train. I opted for a 11x32 cassette as the workhorse on the rear and we'll be mounting some 700x38 cross tires for the trails. The plan is to keep this ride on fire roads, graded trails, sidewalks, and paved roads. None of that rock infested single track stuff for me this time around. If I encounter that crap, the Rough Rider becomes a Rough Walker. At least until I can find suitable riding conditions again. Sounds like a plan, eh?
Click here
for a detailed listing of the trails we plan to ride in and around Henderson.
Here is a photo like the one I'm planning to build. Should be a sweet machine. Specs include Dura Ace Triple shifters and brake combo. Shimano Wheels, 11x32 Sram 9-speed cassette. Nashbar cantilever breaks, Cannondale suspension seatpost 27.2, Deore 9-speed rear derailleur, Dura Ace Triple front derailleur, and a 48x38x28 Triple chainring combo. Should be plenty for them thar' hills.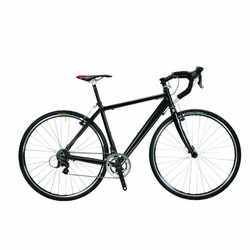 Here is the frame sans fork. The rear drop out measures out to 130mm, unlike a lot of cross bikes that are 135mm. This is nice because you can just swap out a regular set of road wheels. Most of them are the standard 130mm dropout measurement.
And the tread! 38mm treking tires from WTB via Nashbar. Got these on sale for $10 a piece. We'll see how these hold out on the trails around our house.