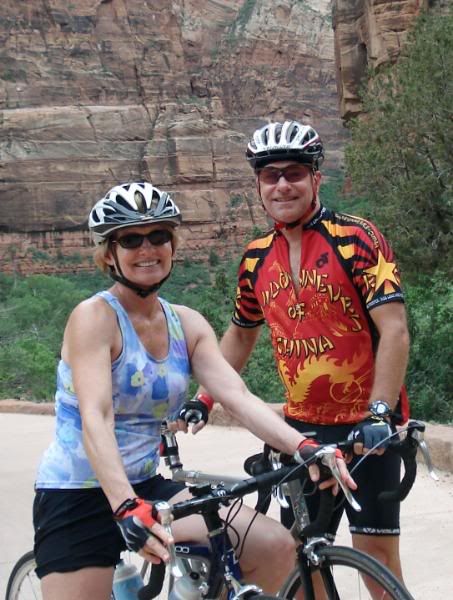 With out a doubt; God's country!
Zion
is one of those places that gives you a sore neck because you spend the entire time looking up. Vista after vista presents itself at every turn throughout the park. While compiling this Blog, I couldn't get over how many pictures I took on just one ride. Check them out below.
We decided to make this a no hassle weekend and just take things as the come. Apart from the hassle with the hotel and a crew of rowdy family reunion folks at our hotel, the weekend was just spectacular. The ride from
Springdale
dumps you almost immediately into the park. You are redirected onto a bike path that is shared with hikers, walkers, dogs, bugs of all kinds, and yes gawkers with their necks craned skyward. It is advisable to be a little cautious here. Once off the path and into the park the ride is really tame so there is plenty of time for viewing and enjoying the landscape. About 10 miles or so in, you reach the turnaround at the
Temple of Sinawava
. The ride back out is just as spectacular so there is any boredom to be had that's for sure.