Bobbie Sports the Coveted Copper Triangle Jersey
Almost every mile above 9500 feet mean sea level. Who woulda thought? I'm not sure if I realized what I got us into by signing us up for this one, but it sounded like a real good idea at the time and besides, it is Colorado—one of my favorite places to visit on this planet. So, off we go at 0615 in the morning accompanied by about 3000 other hearty soles to explore a mountain paradise devoid of oxygen. Appropriately, Bobbie and I sported our Club Hypoxia jerseys to let everyone know that we, indeed, willingly picked altitude today, over oxygen.
The
Copper Triangle
ride is in its 4th year and was started as a fundraiser for the
Davis Phinney Foundation
to help its quest to find a cure for
Parkinson's Disease
. This year, the ride raised over $105,000 for the foundation. That's a pretty hefty amount when you consider the ride was limited to around 3,000 riders and also considering the costs of putting on such an event. Thanks to a host of volunteers and sponsors like
Cliff Bar
,
Colorado Cyclist
, and
Copper Mountain Resort
the ride was a huge success, and I'm sure will continue to be so well into the future.
As expected, it was just a wee bit chilly this early in the morning with the temperature hovering around 33-34 degrees. Here it is the first of August and we hadn't seen temperatures like that since January back in Vegas. We came fairly well prepared, however, so the cold air early on in the ride didn't affect us too much. I wouldn't ordinary say this but the route actually helped keep us warm because right off the bat, you are faced with a monster climb of 11 miles at 6-8% to the top of
Fremont Pass
—all 11,318 feet of it. Now that may not seem like much starting at 9500 feet, but you gotta remember, there isn't a whole lot of oxygen up there. So, we geared down rather early and set a pace that was actually quite comfortable. I will say this about climbing in the mountains: If you don't have a triple chainring, or a well geared compact setup on your bike, you will suffer and spent a lot of needless energy getting over these high peaks. And, oh by the way, you will be mighty tired when it is all said and done with—go with the gears, trust me.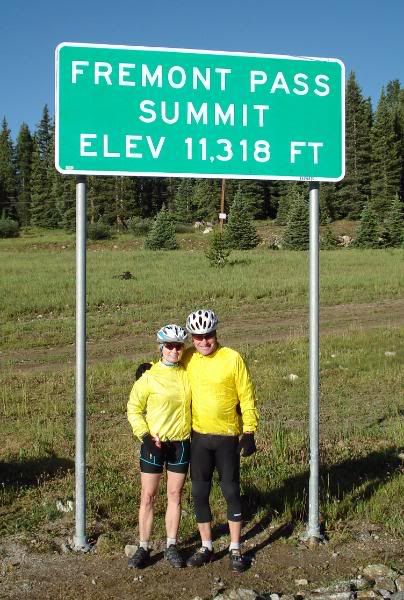 The "We made it!" Picture
With all "mombo" climbs come bomber down-hills and Fremont Pass did not disappoint. The major problem with these steep and long descents this early in the morning is you guessed it: wind chill. I think Bobbie would agree with me, that this was the only time all day we both felt chilled on the ride, especially the hands. The next bit of climbing seemed quite a bit easier and I would attribute the ease of climbing to our technique used going up Fremont. We passed uneventfully by Leadville (home of the
Leadville 100
) and were greeted with another long, but not so steep descent into a picturesque mountain meadow that lead us to another gentle climb into our second rest stop located at
Tennessee Pass
, and the
10th Mountain Division WWII monument
. If you don't like waiting in line; for the porta-potties, to fill your bottles, or to get food, these big rides are not for you. I'm always amazed that no matter how big they make the food tables or increase the number of volunteers at these stations, there are always throngs of people waiting in line. So, patience is always the order of the day. There was always enough food, water, and plenty of smiles to go around.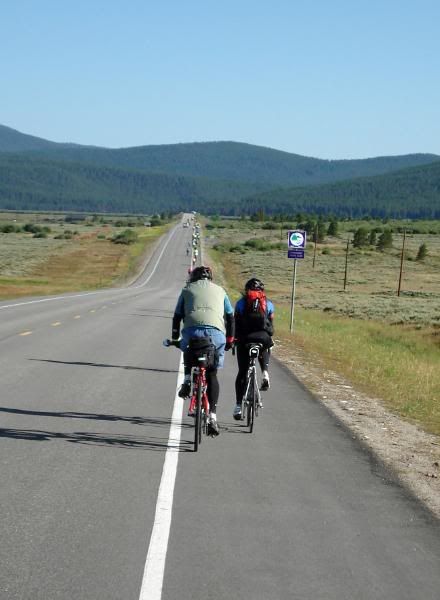 On Our Way to the Climb to Tennessee Pass
By this time, the air had warmed up quite a bit and we found ourselves, along with several others, peeling layers off by the side of the road. A long and rather speedy downhill dropped us at the base of the Battle Mountain climb where we still enjoyed enough coolness in the air to keep us from sweating as we inched our way upward. I was pleasantly surprised to realize just how much more one can enjoy by just slowing the pace down by a couple of miles per hour. I guess I was paranoid about "blowing up" rather early on these climbs because of the altitude more than anything else. As things turned out, discretion was indeed the better part of valor and that discretion added the additional bonus of letting me really enjoy the sights, sounds and smells of Colorado high country—I'm sure Bobbie would agree with me on this one as well.
Bobbie at Tennessee Pass
The descent from Battle Mountain along Highway 24 was exhilarating to say the least. Unlike the previous very looooong downhills this one serpentined its way all the way down the mountain to the tiny community of
Minturn
. Flowing out into a valley we followed a delightful river all along Highway 24 until finally reaching the outskirts of Western Vail. It is at this point where you join the Vail bike path and where the last climb of the day begins. The route cuts right through the center of
Vail
where you are greeted with an enormous mountain vista on your left and right that is covered with mountain homes. We were both stunned at the enormity of some of these homes and couldn't help but wonder how anyone could afford such castles. The town is amazingly clean and neat. There are no "in your face" signs anywhere along the way. So, at least, the town's folks are keeping things quaint despite the obvious sprawl all over the mountain side.
The Road up Battle Mountain
We would like to mention the Colorado State Police at this point. Despite their efforts to curb these types of rides throughout Colorado and the number of participants, I found these officers to be very courteous, professional, and very caring for our safety. On numerous occasions, we were escorted safely through some busy intersections and protected from passing traffic on some pretty narrow highways—so, two thumbs up and a z-formation for the Colorado State Police.
At the second to last rest stop, the "beast" begins. I say "beast" because I think it was tough because of all the previous climbing we had done so far, especially at altitude. The route starts out tame enough at about 3-4% and parallels I-70 using the old road before I-70 was built. A steady climb drops you out on the bike path that eventually leads to the summit of
Vail Pass
at 10,660 feet. The path itself is not difficult, but the grade changes are numerous, and after all the previous climbing, these relentless changes took their toll on our legs. The path was not without merit however. There were numerous places along the way where the view was just spectacular. I only wish we didn't have quite such a need to get "this beast of climb over with." The key, again, was to select the right gearing and just settle into a nice comfortable rhythm. Something that is a bit difficult to do after an already long day of climbing in the legs. Reaching the summit was quite a treat so we stayed there for awhile chatting with other riders, as we knew the last 7 miles was literally all downhill. If fact, we wouldn't go back "up" again until we climbed the stairs to the elevator that would take us to our room.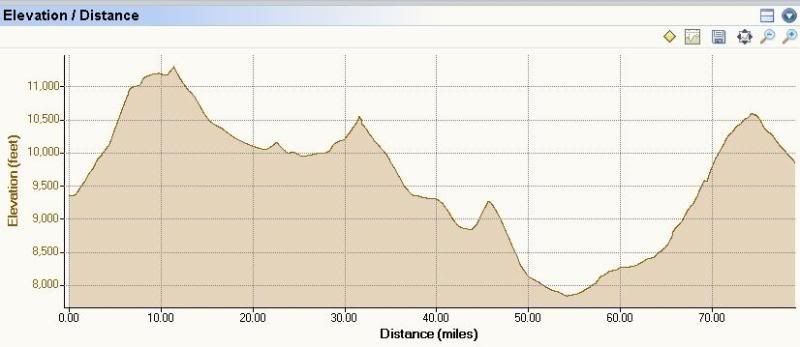 The Elevation Profile
We topped the ride off with an outstanding free lunch of salad, chicken picata on wild rice, iced tea and a couple of "Fat Tires." Then it was off to the comfy grass to lay around in the balmy sunshine and take in the free concert. A truly great day in the Colorado high country, indeed.